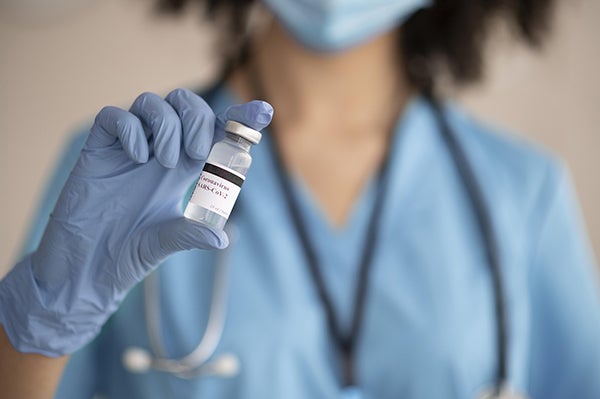 The University of Colorado announced on April 28 that its four campuses and system administration will require all students, faculty and staff to have COVID vaccinations before the start of fall semester 2021. CU's president and campus chancellors made the decision after consulting state and local health departments, as well as CU experts. Read the communication about the decision from the president and campus chancellors.
The following Frequently Asked Questions section aims to answer common questions about the vaccine requirement, but questions will arise that are not on the list. It will be regularly updated. Submit questions via the online Vaccination Questions web form. Some information is specific to individual CU campuses. You can visit their COVID pages at the links below.
---
Frequently Asked Questions
Q: Why is CU requiring vaccines for all students, faculty and staff?
A: CU believes that doing so will support the health and safety of campus communities and the cities that call our campuses home. It will lower the rate of infection. Additionally, a vaccination requirement will further the goal of having an on-campus experience that is critical to academic success and personal growth.
Q: When will this be in effect?
A: Fall 2021.
Q: Where can I get a vaccine?
A: You can find information about obtaining a vaccine here.
Q: How did the university reach this decision?
A: The university has followed guidance from state and local health departments, as well as CU scientists and experts. We believe the science around the vaccines is clear and compelling. The university also consulted with the Governor's Office and the Colorado Department of Higher Education.
Q: Is CU the only university in Colorado to make this decision?
A: CU and its four campuses join several other Colorado public and private higher education institutions to make this decision, including the Colorado State University System, the University of Northern Colorado, Fort Lewis College, Metropolitan State University of Denver, Colorado College and the University of Denver.
Q: The COVID vaccines in use have Experimental Use Designation from the U.S. Food and Drug Administration. How can you require vaccines that aren't FDA approved?
A: We anticipate FDA approval in the near future.
Q: What about international vaccines that are not approved for use in the U.S. by the FDA?
A: We are considering vaccines used internationally but not approved by the FDA and will have a determination soon.
Q: Will you require booster shots if they are recommended?
A: We will adhere to FDA guidance on the question of booster shots.
Q: Will there be exemptions from the requirement?
A: As with current CU vaccination policy, there will be a process for requesting exemptions on medical and non-medical grounds.
Q: How do I apply for an exemption?
A: Each campus has its own process for exemptions. Check with campus COVID web pages.
Q: How do we respond to those individuals who completed the first vaccine but had a reaction and/or other reason for not completing the 2-dose regimen?
A: They will be able to apply for exemption.
Q: If I am a CU staff member who works remotely, do I need to be vaccinated?
A: Yes
Q: Will supervisors at CU be made aware of who has requested and received an exemption?
A: No.
Q: Why is this being required for faculty and staff when you don't require them to show proof of other vaccinations such as measles, mumps and rubella?
A: The decision is based on guidance from public health experts. We are in a deadly global pandemic, which necessitates taking extra precaution to ensure the health and safety of our community.
Q: What is the process for verifying that I have had a vaccine?
A: Each campus and system administration are developing a process that will be communicated soon.
Q: I already had COVID-19. Do I still need to show proof of vaccination?
A: Yes
Q: Do visitors to CU facilities and campuses need to show proof of a vaccine?
A: No.