UPDATE: October 13th 2017, all Singularity customers are live in OnBase!
---
The project
Q: What is Enterprise Content Services?
A: Refer to the Enterprise Content Services - Catalog page for a complete description of the document management service.
Q: What is OnBase?
A: OnBase is a document management solution that secures your business content in a centralized, secure location that is easily accessed from any device or location. Hyland developed OnBase and currently supports Singularity, the solution now in use by many CU departments. CU is converting all current Singularity users to OnBase during the term of this year-long project.
Q: How long is this project?
A: The Singularity to OnBase conversion began July 2016 and will complete fall of 2017. Here is the roadmap for OnBase conversions.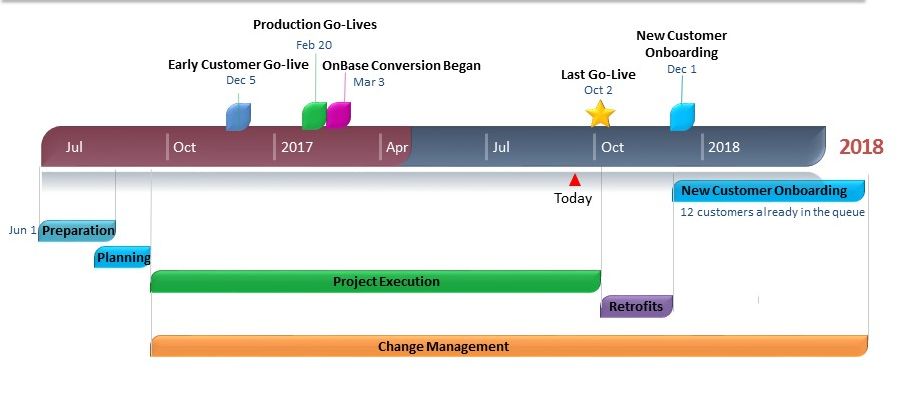 Q: Who will be impacted by this project?
A: Current Singularity users: 120 departments, 2000+ users

Current OnBase users: Employee Services, 100 users
Q: Why is the conversion to OnBase necessary?
A: The conversion to OnBase is needed for two important reasons:
Singularity is no longer supported by the vendor and is therefore no longer receiving updates
Singularity requires browser plug-in technology to operate and this technology will not be supported
Q: Why Hyland's OnBase solution?
A: There are several reasons CU is converting to Hyland's OnBase, rather than looking for a completely new solution, as follows:
Hyland Software owns both Singularity and OnBase and provided significant licensing cost savings to move current Singularity users onto OnBase
Hyland software has matured OnBase to match the feature richness of Singularity
Hyland Software is a Certified Oracle Partner, ensuring that the solution will work with CU's Oracle and PeopleSoft applications
Hyland Software has successfully performed over 200 conversions of Singularity into OnBase, meaning that we have a highly accomplished partner to support the transition
Employee Services is already on OnBase, so CU has experience with the functionality and utility of the application
The conversion process
Q: What does the conversion process look like?
A: There are four stages to the conversion - Needs Assessment, Mapping, Migration and Validation. Each campus department that is submitting content into Singularity today will partner with UIS to perform these steps and ensure a smooth transition based on each department's unique business processes and needs.
Q: Will all departments convert at the same time?
A: No. Departments will convert at different times throughout the length of the project. Singularity documents will be converted to OnBase with each departmental go-live. Refer to the OnBase Department Go-live Dates chart for when each department will convert.
Q: Where will my documents be after conversion?
A: Following the departmental conversion, new content will only appear in OnBase for converted departments, as will content transferred from Singularity. All existing Singularity content will remain in Singularity until the system is decommissioned.
Training
Training will be offered to end users prior to implementation. More information will be available closer to implementation dates.
Please access the OnBase training page for Quick Reference Guides and web-based training materials.
Project Teams
Certified Department Administrators (CDA)