​
The UIS reorganization and New Service Framework (NSF) will strengthen campus partnerships to more effectively set strategy and coordinate efforts. In addition, UIS and campus partners will benefit from a holistic view of the delivery pipeline.
This effort was identified as a top priority in the maturation of UIS as the organization responds to the speed and level of quality required by campus and System Administration customers. This project also supports IT Governance and the strategic and annual planning efforts initiated in 2018.
Objectives
Key objectives:
Overall, optimize UIS as a sustainable, competitive asset for System and CU as a whole.
Ensure UIS is customer-focused and can respond to priorities in an effective and efficient way.
What are we seeking to accomplish?
Strengthen partnerships with campuses and system across all service lines to more effectively set strategy and coordinate efforts.
Create a consistent experience for partners and customers that provides them with visibility to where their requests are in our process.
Create understanding within UIS of the strategic priorities, the pipeline of deliverables, metrics, demand capacity, as well as roles and responsibilities.
Improve internal processes, training, and accountability.
The NSF project is comprised of three stages that will be executed throughout 2019 and into early 2020.
Stage One: Surveying and Blueprinting
Main activities include documenting the current state roles & responsibilities, intake methods, metrics used, and list of service offerings.
New concepts will also be defined: "Front Door" for intake and "Single Pane of Glass" for representing each service line in a consistent way to our customers.
Research for a standard management training program is also included in this stage.
Stage Two: Foundation and Structure
Stage 2 work entails defining the future state in terms of updates that need to be made to roles and responsibilities, processes and hand-offs between teams, improvements to UIS' enabling toolset, standardizing steering and working groups across service lines, and ensuring UIS employees holistically have a clear understanding of our service offerings.
Metrics to support transparency will also be developed including Operational Level Agreements (OLAs), Service Level Agreements (SLAs), and health scorecards.
Stage Three: Open House
During this stage, UIS will roll-out the new Front Door for intake; Single Pane of Glass to provide a view of the UIS pipeline of work, operational metrics, and service health; and Health Scorecards by service line for external customers and partners.
Internally, adjusted job descriptions, OLAs & SLAs, and new UIS onboarding procedures will take effect.
Management training will be fully incorporated into roles and onboarding.
Stage One Findings
Definitions
Out of Stage One of New Service Framework, the working group has established new terms to use within the organization:
Single Pane of Glass (SPG)
The SPG is intended to provide stakeholders a transparent view of the UIS pipeline, operational metrics, and service scorecard. UIS leadership will use it to aid decision-making with stakeholders and internally (what to work on, prioritization, improvement to services).
The SPG dashboard will combine views of the UIS pipeline of work, operational metrics and service scorecard, by major customer segment.
Service Scorecard
A measure of the overall fit-for-use of a service, calculated by measuring its:
Stability
Performance
Value to the customer
Supportability
Compliance Risk
Front Door – Work Intake
The project team worked with UIS leadership to determine the high-level model for how work will enter the organization in our future state, focusing on:
Who is placed "in front of" a major customer segment
How customers will engage UIS to consume existing services and to request new solutions
How the UIS Service Strategy and UIS Service Delivery teams will partner in providing services
Business Relationship Manager (BRM)
UIS will formalize the BRM role in the organization.
The BRM is responsible for:
Building relationships with customers to understand long-term strategies and current project needs.
Leading UIS-service prioritization and customer segments governance meetings to keep customers apprised of service changes, and current status of work requests.
Representing and advocating for business needs within UIS.
Negotiating agreements and commitments by facilitating communications between business stakeholders and UIS teams.
Advocating for UIS services on the campuses.
Business Relationship Managers represent our major customer segments of Research, Finance, HR, Student, and System (including Advancement). We also serve the needs of campus schools and departments independent of the major customer segments; accordingly, a School and Department BRM (S&D BRM) will ensure UIS has a holistic view of these groups' needs.
While the BRMs are primarily externally focused, internally they will collaborate frequently especially in regards to the prioritization of work and creating visibility to demand using the Single Pane of Glass (SPG).
Service
A service delivers value to customers. A service is end-to-end and combines people, processes, and technology to provide outputs or results that enable business capabilities and desired outcomes.
During Stage One, each service was documented using a standard service form; currently, UIS has:
76 documented services

19 internal (consumed by customers who are internal to UIS)
57 external (consumed by customers who are external to UIS)

31 identified service owners
As we look toward Stage 2, we will refine our definition and formalize the taxonomy for service classification. This will allow UIS to communicate clearly about what we offer.
Models and Frameworks
During Stage One, the models found below were developed to facilitate UIS' ability to serve customers better. In Stage Two, the supporting people, process, and technology details will be defined.
Single Pane of Glass (SPG)
Below is a sample representation of the SPG for the HR customer segment that will provide a holistic view of work currently underway, the pipeline of work coming in, work that has been completed, and key metrics. Each customer segment will have an SPG dashboard.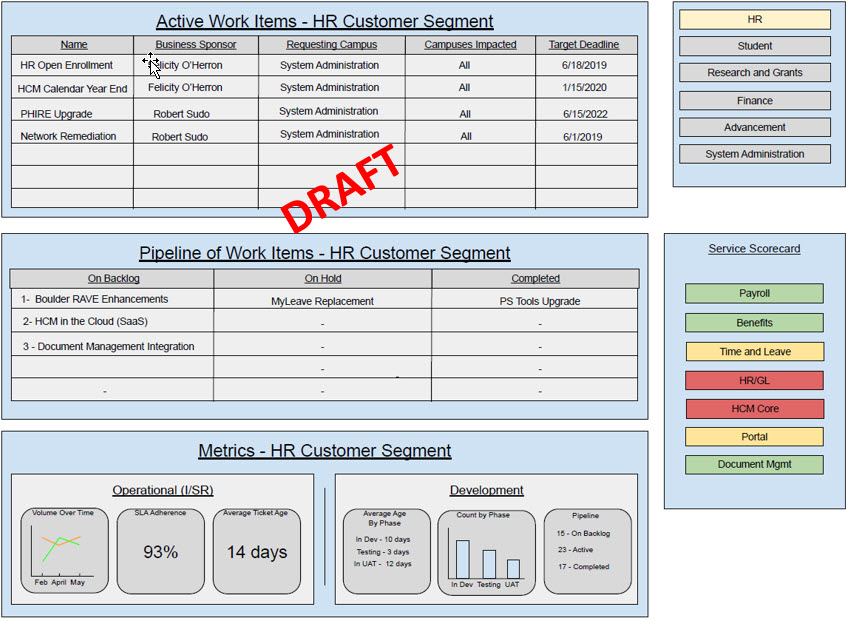 Front Door Model – Work Intake
With the formalization of the BRM role, new and strategic work will flow into UIS via the BRMs (with prioritization happening in the customer segment governance groups). Operational work requests will still come directly to Service Owners; the School & Department BRM will ensure there is visibility to operational requests in the Single Pane of Glass and by collaborating with the BRM team.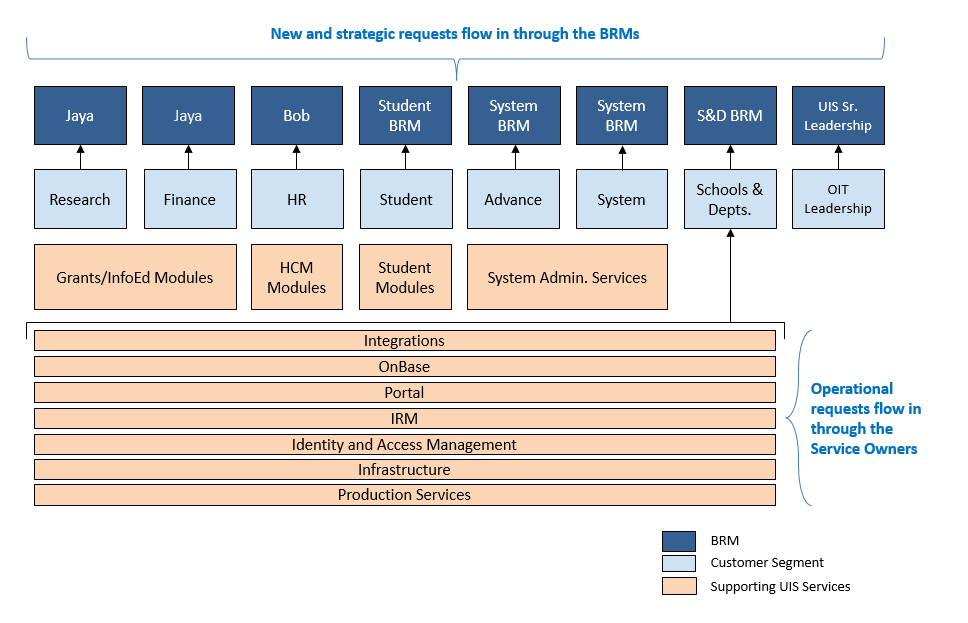 Steering Committees and Working Groups
The customer segment steering committees and working groups are ultimately responsible for prioritizing the work UIS performs in service to CU. In Stage Two, work that is currently underway will continue to formalize the processes used within the steering and working groups. This will further our efforts to build alignment and understanding across our campus customers and partners.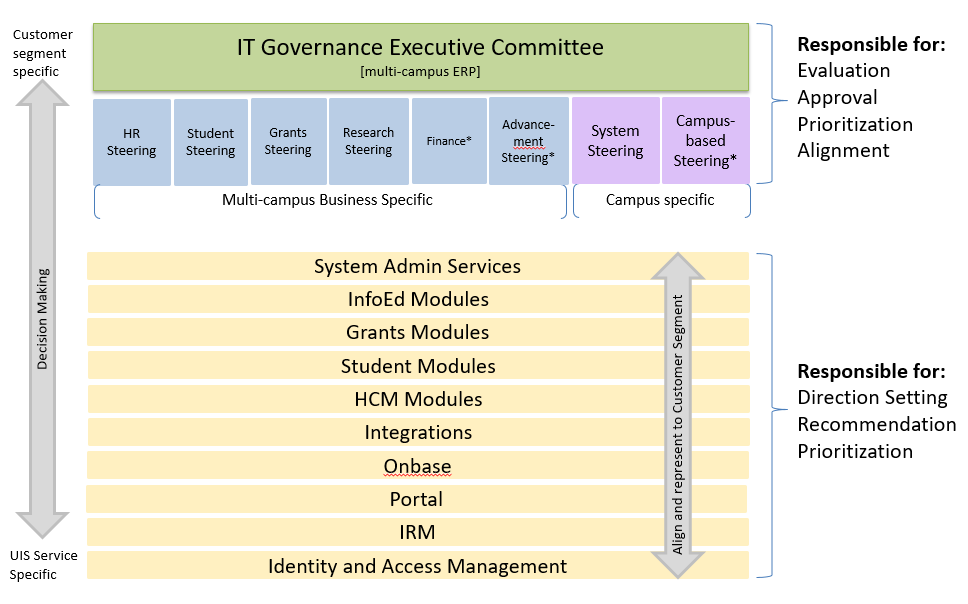 Review of Stage One
Stage One was focused on surveying and blueprinting - in other words, building an understanding of UIS as we are today and setting a target for where we want to be.
Analyze Current State included:

Documenting current roles and responsibilities
Documenting current intake methods
Identifying metrics used today internally and externally
Documenting all UIS services in a consistent way

Identify Future State included:

Designing the Single Pane of Glass model
Mapping out the Front Door - Work Intake framework
Refining the Steering and Working Group model
Stage One Accomplishments
Inventory of service offerings
Inventory of current roles and responsibilities
Creation of service forms
Current state of the "Front Door"
Single Pane of Glass design
Future "Front Door" design
Management training research
Current metrics used by teams
Consistent release notes
Constituent survey - Know the Customer
Draft steering and working group charters
Change Management: stakeholder interviews
Change Management: approach, communication, business case for change, leadership training, determine success metrics
Stage 2: Planning for our Foundation and Structure
Stage 2: Planning for our Foundation and Structure planning stage began in June 2019, and we moved into execution in September. This stage entails defining the future state in terms of updates that need to be made to roles and responsibilities, processes and hand-offs between teams, beginning to identify improvements to UIS' toolset, standardizing steering and working groups across service lines, and ensuring UIS employees holistically have a clear understanding of our service offerings.

This stage was broken into two parts: Stage 2a and Stage 2b. Stage 2b will take what was decided in 2a a step further to understand details about the role and responsibility changes, as well as how to improve the use of the technology tools UIS employee use every day to support the desired outcomes of NSF.

Stage 2a wrapped up in January; key accomplishments include:
Prosci training

Much of UIS has participated in role-specific change management training with the headline "we all play a role in ensuring NSF is successful." Those who have not yet attended are scheduled for two sessions in January.

Committee work

A quarter of UIS participated in the committee work to drive Stage 2a. Our committees were focused on Service Design, Incident & Defect Management, Service Measurement, and Process Design (which covered work intake, demand management, the role of the Business Relationship Manager, and capacity planning).

Additional Scope Items:

People Manager Framework to define role-level expectations for all UIS managers and the supporting training for the manager baseline; further analysis of our current job descriptions into our current state roles and responsibilities; culture analysis to ensure the changes we put in place will stick.

Website templates and framework

The UIS website will be refreshed to reflect our future state; before we do that, we are working to ensure consistency in look, feel and ease of navigation.

Service Catalog
Stage 2b will begin in February 2020 and will focus on:
ITIL4 training

ITIL4 training will be completed by all of UIS in 2020. ITIL 4 provides a known, best-practice based IT Service Management framework that UIS will leverage to support us in being customer-centric and value driven.

Evaluation of tool changes

UIS teammates have been clear that changes need to be made to tools such as Cherwell, Team Dynamix, etc. in order for us to have the data we need to run this organization in an efficient manner, as well as for sharing with our customers in a way that is meaningful to them.

Build website

Once the website templates and framework are completed, we will work on gathering information from across UIS to refresh and reflect our future state. This will be published in Stage 3.

Implementation Planning

Planning for Stage 3: Open House will begin during Stage 2b. During Stage 3, UIS will roll-out the new Front Door for intake; Single Pane of Glass to provide a view of the UIS pipeline of work, operational metrics and service health; and Health Scorecards by service line for external customers and partners.
UIS will address our future state operating model with the outputs of the NSF project. Our operating model must support the strategic objectives of the organization. Accordingly, translating strategy into a small set of specific principles is crucial for designing an effective operating model. The following design principles serve as objective criteria for designing the UIS operating model.
UIS NSF Organizational design principles
1. Improve internal role clarity, accountability, and work processes to deliver UIS services in a way that is transparent and instills trust.
2. Improve the ways we interact with our cross-CU partners and influence demand for UIS services according to CU's strategic priorities.
3. Demonstrate strategic investment in roles that allow us to know the customer better and innovate for the future to further the academic and research missions of CU.
4. While maintaining department focus on developing high-quality, multi-campus solutions, allow UIS to be responsive and nimble in the reality of a constantly changing world.
5. Demonstrate attention to our UIS core values: People Centric, Integrity, Service, and Collaboration.
6. Be realistic about the risk change poses to UIS operations and our ability to change successfully.
The following success criteria serve to orient the project and ensure we are tracking to a "true north" as the project progresses. Measurement of our success criteria will take place throughout the project lifecycle.
1. UIS Identity is Clear:
Through the work of the NSF project and resulting outputs, we will drive clarity for UIS staff, customers, and partners about our charge and the work we perform in service to CU.
2. Develop UIS Culture to Support our Future State:
Desired behaviors are demonstrated and championed on a regular basis in alignment with UIS' core values, and undesired behaviors are handled constructively.
UIS employees state that our organizational culture is positive and supportive, and people feel safe to share concerns and questions.
3. Employee Engagement:
UIS employees can postively connect with the changes brought by NSF and can see themselves being successful in the future state.
UIS employees demonstrate active participation as we move through the project life cycle.
4. Strengthen UIS Relationship with Customers:
As a customer service focused organization, UIS will work to ensure we build on the value customers derive from UIS services in furthering their goals and objectives.
As we receive questions throughout the New Service Framework project, we add them here with answers or a timeframe to gather an answer.
Business Relationship Manager (BRM) questions
Q: If a business school administrator has a request for UIS in support of their goal to drive student success (for example), does it have to go through the School & Department BRM?
​A: No, it could come through the Student Services governance group. However it comes in, UIS will work internally to ensure there is visibility to the request via the Single Pane of Glass and BRMs collaborating.

​Q: How will the customer know if they should go to a customer segment BRM or the School & Department BRM with their request?
​A: If the request is HR related, for example, the HR BRM owns the customer relationship and is responsible for keeping campus HR representatives informed about the request as it is worked. Our BRM team is expected to collaborate, so the School & Department BRM will also be aware of requests for work.
Q: Will there be a single BRM per customer segment?
​A: All BRMs will have back-up and support. Some of our segments are bigger and need more 'coverage' – we need to go through the exercise of who is wearing the "BRM hat" currently, and what we want to have for the future. The HR service line is very different than Student for example.
​Q: In terms of committing to delivery dates, does the BRM provide the business' expectation for the delivery date and what is driving their date?
​A: Yes, this is correct. Since the BRM will have the relationship and understanding of the customer's business needs, they should represent date constraints and expectations to the UIS partners that need to be involved in delivering the request.
​Q: When a request comes directly to a Service Owner, who communicates back to the customer?
​​A: The BRM will ultimately be responsible for reporting back to the customer. However, we understand that initially with this being a new role, the relationships may not be built yet and there may be a short transition period.
​Q: BRMs don't "solution" as part of their role; who is taking on the role of discovery? Often, a customer comes to us with a specific request, but we need more information.
A: We need to get to an appropriate level of detail to understand the request and determine the level of effort; there could be a group of people in UIS that would need to work on this (subject matter experts, business analyst role, and technical role potentially). During Stage Two, we'll define what this process will look like.
Requirements gathering and estimating questions
Q: Who gathers requirements in the future state?
A: We will be looking at the solution design process in detail during Stage Two. Requirements gathering is certainly part of that so that we can accurately understand the level of effort for a request.
​Q: Currently in UIS, teams approach estimating differently; will we standardize on the upfront "t-shirt size" estimating process?
​A: Yes, we need to make sure there is enough accurate information to have a prioritization conversation. Currently, our teams handle estimating in different ways; having more consistency in our approach to estimating will help. We will work on this in Stage Two.
Solution request process questions
Q: We work with the campus Offices of Information Technology (OITs) on many projects. How would requests for work from come in from them?
A: This could come in a number of different ways based on what the work is. Once it's in our house though, we would have mechanisms to route it accordingly. For example, the Unified Student Experience (USE) request came through IT Leadership; LeepFrog came through the Student Services governance group; operational requests for the Portal come to the Service Owner directly. Internally, we will have the holistic picture of this work and who needs to do what.
​Q: Sometimes customers ask for something, but really need something else – what happens then?
A: The BRM needs to be able to bring in the right people to address what the true requirements are, determine what the solution is that will help them, understand level of effort, and prioritization (the customer may only know about one tool and are asking for it, but we have knowledge and experience to help guide them).
Single Pane of Glass questions
Q: Will the Single Pane of Glass (SPG) dashboard show work that has been completed?
​A: Yes, the SPG will represent the work that is in progress, the backlog of requests, and what has been completed. We want to show service health and be able to articulate demand on the service clearly. The SPG is meant to represent the customer segment holistically.
Steering and working group questions
Q: Will the governance groups be responsible for resolving questions about priority?
​A: Yes – the customer segment governance groups are starting to do this. Right now, the main segments don't have visibility to the School & Department areas, but over time we'd expect that to improve. The governance groups' role is decision making.
Stage Two questions
Q: Will we look at customer email lists in Stage Two?
​A: Yes -- Stage Two is all about the details including how we will communicate with customers. Addressing customer email lists, ensuring they are clean and up-to-date, is important.

​Q: In Stage Two, are we going to work through more use cases/examples of how requests flow through UIS?
​A: Yes -- in Stage 2, we'll be going to a level of detail to cover all the types of work that comes to UIS and ensuring we understand how it will flow through the organization in the future state.