Strategic planning at CU will create a roadmap to focus the university's strategic priorities for the next five years and beyond. The strategic planning process is guided by conversations – conversations with the Board of Regents, the faculty, students and staff, campus chancellors and their teams, and with the broader CU community.
Those conversations began in the summer of 2019. The CU Board of Regents took a deep dive that began the process at its summer retreat in July. Conversations with the board, governance groups, and campuses led to defining the scope of the project, articulating priority areas, and developing a guide for the planning process.
The collaborative process resulted in the creation of four strategic pillars: (1). affordability and student success; (2). discovery and impact; (3). fiscal strength; and (4). diversity, inclusion, equity and access. Each of these pillars has several areas of focus that will be addressed by working groups. Some focus areas are campus specific, others are system-wide. The CU system strategic plan will not replicate or replace campus strategic plans. The CU system strategic plan will, however, align all elements of governance (regents, system, and campuses), make the case for CU with the state, and shine light on areas of success and need alike.
To succeed, the strategic plan must recognize the strength of diverse communities and perspectives. We must continue and enhance our commitment to creating an inclusive culture in pursuit of our goals of excellence and meeting the needs of state, nation, and world.
The working groups will meet throughout fall and spring semesters to address charges and develop metrics to quantify measurements to track progress toward meeting the long-term outcomes of strategic focus areas. Each working group will articulate action items (with an associated timetable and budget) to meet the long-term strategic outcomes.
The goal of the process is to have a strategic plan for the Board of Regents to consider at its summer 2021 retreat. The university community will have opportunities for feedback throughout the process, whether through this website or directly to team leaders.
---
CU's Strategic Planning Process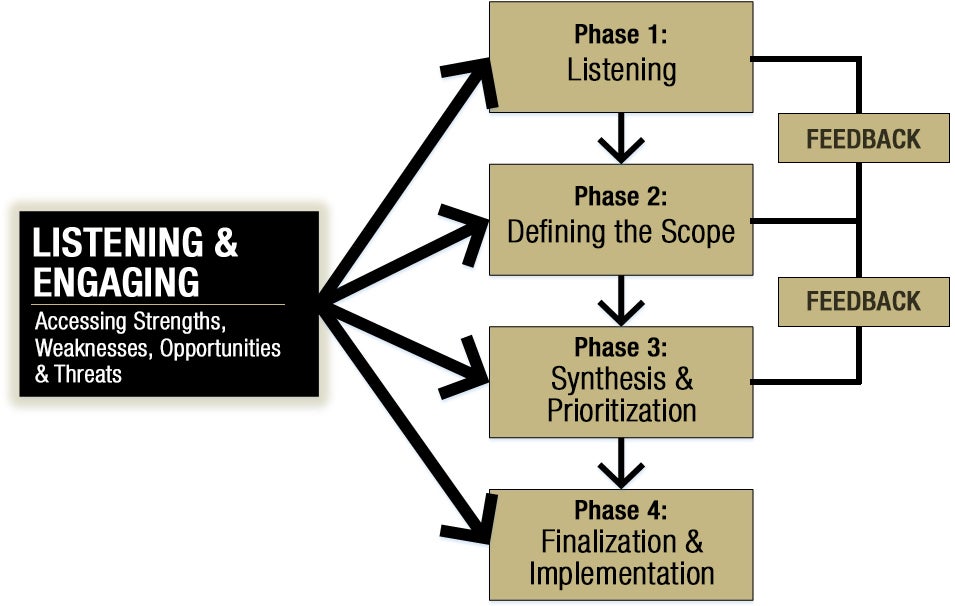 ---
Goals of the Strategic Plan
Lean into the Fourth Industrial Revolution
Optimize collaboration across departments, campuses, system and external partners
Make the case for CU with the state and reconceive CU's role internationally
Align all elements of governance – regents, system, campuses
Shine light on areas of success and need alike
Answer intractable challenges – deferred maintenance
---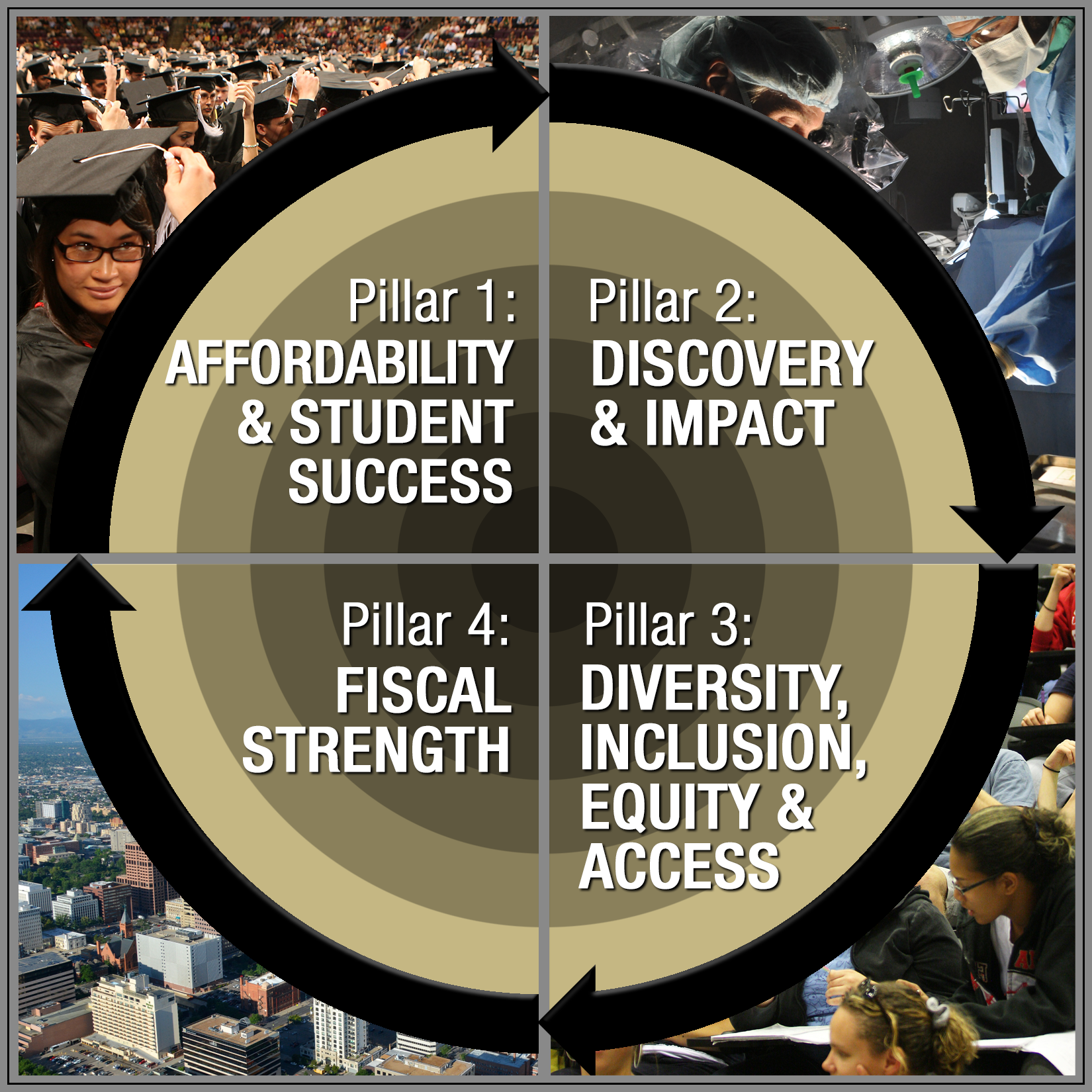 ---
---
Planning Structure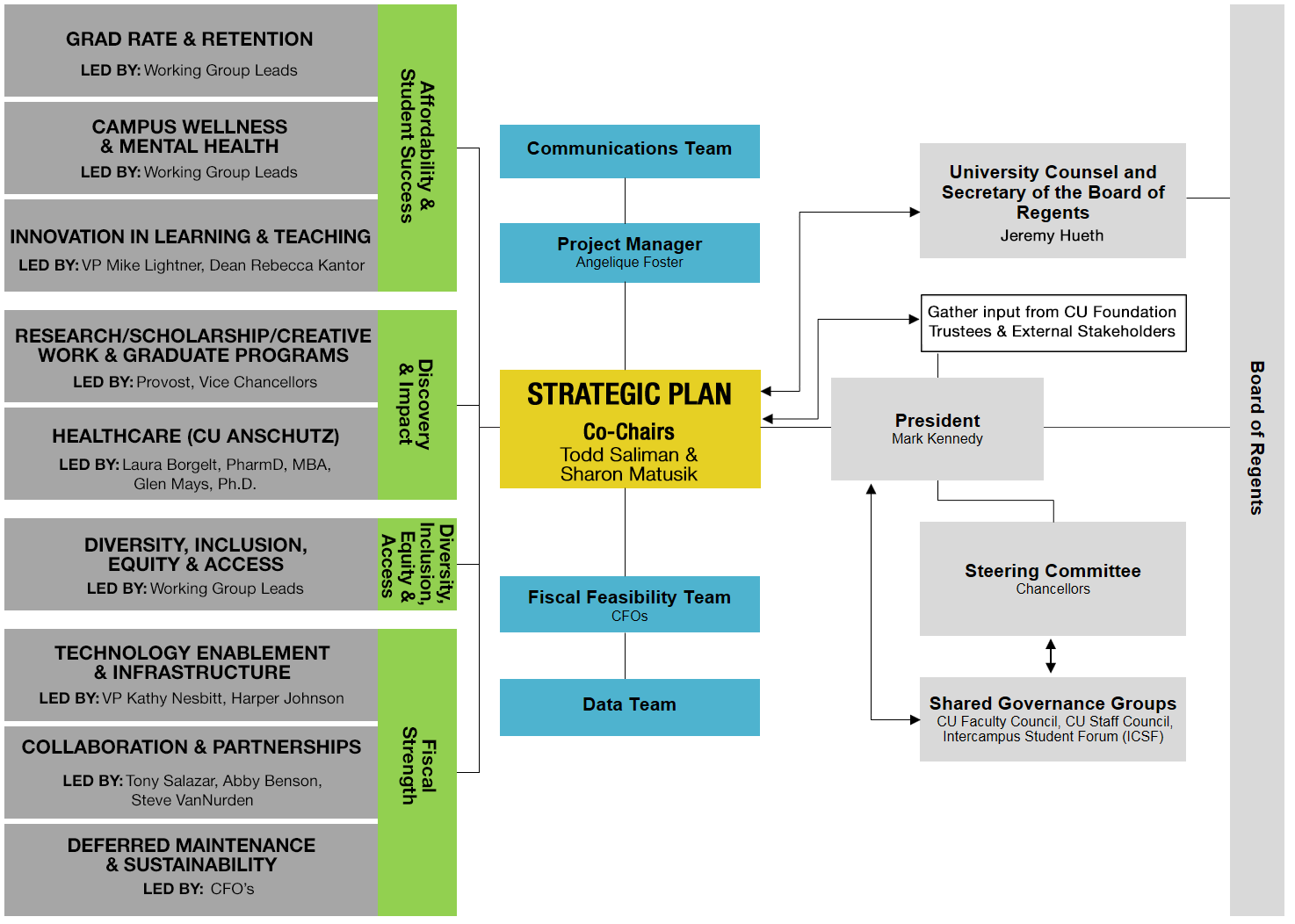 This organizational blueprint shows the campus and system strategic priorities and shows the organizational units supporting the strategic planning effort.