2nd Congressional District
Current Term 2015-2021, Democrat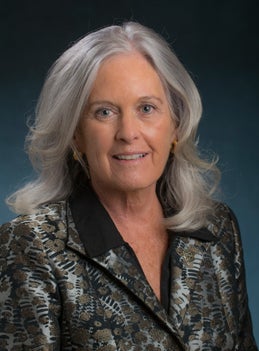 CONTACT INFORMATION
Office of the Board of Regents
1800 Grant St., Suite 800
Denver, CO 80203
Cell: 720-633-5251
Email:
Linda.Shoemaker@cu.edu
University of Colorado Regent Linda Shoemaker has devoted the past 20 years to advancing quality public education in Colorado. A University of Colorado Boulder alumna and former journalist and attorney, she was elected president of the Boulder Valley School District Board of Education and was founding board chair of the Bell Policy Center, a nonprofit think tank committed to making Colorado a state of opportunity for all. She currently serves as president of the Brett Family Foundation, which she co-founded in 2000 with her husband, Steve Brett. The foundation supports Colorado communities by investing in organizations working for social justice, developing nonprofit media, and addressing the needs of disadvantaged teens in Boulder County.
Across the CU system, she has served and supported the Journalism Program Advisory Board, the CU Foundation Board of Trustees, and the CU Advocates program.
Shoemaker is a former board member of the "I Have a Dream" Foundation of Boulder County and the Foundation for Boulder Valley Schools (now named Impact on Education), and former Court Appointed Special Advocate for Abused and Neglected Children for Voices for Children. She also has been a member of the Women's Foundation of Colorado Board of Trustees, Boulder Business and Professional Women, and the Colorado Women's Bar Association board. In 2004, she was honored as Colorado's Outstanding Philanthropist. She also has been awarded the Boulder Chamber of Commerce Women Who Light Up the Community, Downtown Boulder Inc.'s Property Owner of the Year, the YWCA's Spirit of the Community Award, and the Daily Camera's Pacesetter Award for Community Service.
Shoemaker has lived in Colorado since 1963. She earned a bachelor's degree in journalism from CU-Boulder in 1969 and a law degree from the University of Denver Law School in 1982. She and her husband live in Boulder. They have three children and six grandchildren.