At Large, Republican
Current Term 2017-2023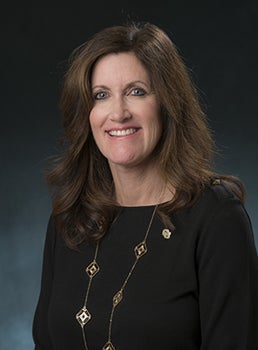 CONTACT INFORMATION
Office of the Board of Regents
1800 Grant St., Suite 800
Denver, CO 80203
E-mail:
Heidi.Ganahl@cu.edu
Heidi Ganahl won statewide election to her at-large seat in 2016. A Republican from Superior, she is best known as the founder of Camp Bow Wow, the country's largest pet care franchise.
She has faced extraordinary adversity in her life and responded by turning her lifelong passion for dogs into Camp Bow Wow, a $100 million brand, which she sold recently.
Ganahl received the 2016 Colorado Brave Leader Award and was chosen as one of Fortune's 10 Most Promising Women Entrepreneurs. She also was featured in Parade Magazine's Designing Women: 10 of the Most Amazing Female Entrepreneurs in U.S. History.
Passionate about giving back, Ganahl serves on various boards focused on entrepreneurship and education. She also leads her own nonprofit, the Fight Back Foundation, to positively tackle the most pressing issues facing today's youth, including bullying, teen sex assault, school safety and substance abuse in teens.
She is married to Jason, one of the country's top competitive barbecue cooks, who recently opened GQUE, a popular new restaurant. They have four kids: Tori, Hollie and twins Jack and Jenna.