Chair, 3rd Congressional District, Republican
Current Term 2019-2025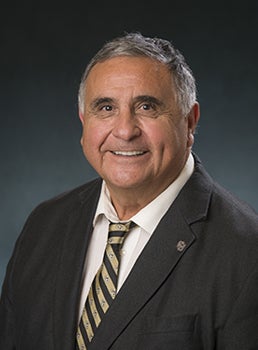 CONTACT INFORMATION
2491 I 1/2 Road
Grand Junction, CO 81505
Cell: 970-471-2671
E-mail:
Glen.Gallegos@cu.edu
University of Colorado Regent Glen Gallegos is a former educator and retired president of operations at a family-owned construction company. A Republican from Grand Junction, he was elected to the board in 2013 and represents Colorado's 3rd Congressional District.
Gallegos worked for 26 years as a teacher, coach, principal and executive director of instruction for Eagle and Mesa County school districts. He retired in 1997 and joined the family construction business, The Gallegos Corp., as president of operations, overseeing multiple projects and a workforce of up to 1,000.
Gallegos was elected board chair for 2019-2020 and again for 2020-2021. Gallegos was elected board vice chair for 2016-2017 and has chaired the regents' intercollegiate athletics, audit, governance committees and the capital construction subcommittee.
Gallegos served on the Colorado Mesa University Board of Trustees for a term that ended in 2010 and currently serves on the Colorado Mesa Presidents Advisory Council, Club 20 and Action 22.
Gallegos earned his bachelor's degree from Western State College and his master's degree from the University of Northern Colorado. He completed pre-doctoral work at the University of Denver.
Gallegos and his wife, Diane, have been married for 46 years and have four children and four grandchildren. Daughter Erin recently graduated from CU-Boulder.