6th Congressional District
Current Term 2015-2021, Republican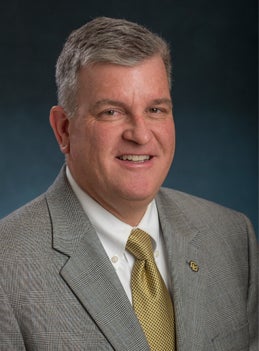 CONTACT INFORMATION
c/o Office of the Board of Regents
1800 Grant St., Suite 800
Denver, CO 80203
Cell: 303-524-2754
Email:
John.Carson@cu.edu
University of Colorado Regent John Carson is an attorney in corporate practice in Greenwood Village. A CU alumnus, he earned bachelor's and law degrees at the University of Colorado Boulder and a tax law degree from Georgetown. In 1983, he received CU's Thomas Jefferson Award for leadership. He also has served on the CU Law Alumni Board. Carson was president of the Douglas County Board of Education from 2009 to 2013, and served on the board beginning with his election in 2005. The Denver Post named him Top Education Thinker of 2012 for his work serving the state's third-largest school district, with more than 65,000 students.
Under Carson's leadership, the board enacted one of the most sweeping parental choice, market pay, and pay-for-performance programs in the country. The board also directed a significant increase in school security through an innovative partnership with Douglas County law enforcement. Other changes included equal funding for charter schools, enhancement of the district's resources for home school families, enactment of the Choice Scholarship Program, and the expansion of the HOPE online learning academy charter school serving disadvantaged students throughout Colorado.
Carson previously served as Rocky Mountain Regional Director for the U.S. Department of Housing and Urban Development (HUD) in the administration of President George W. Bush. Before that, he worked for nearly 12 years on Capitol Hill in Washington, D.C., serving as legal counsel for several members of Congress, including Sen. Wayne Allard, Sen. Robert Kasten and Rep. Joe Knollenberg.
He served in the U.S. Marine Corps Reserve from 1979-1985.
Carson and his wife, Eileen, live in Highlands Ranch and have three children.