Salesforce is at the heart of eComm, but it would be nothing without other systems across CU. Most of eComm's Salesforce Contacts are from a source system (updated nightly) and enhanced with engagement information from eComm's other applications (Marketing Cloud & Cvent), constituents and eComm specialists.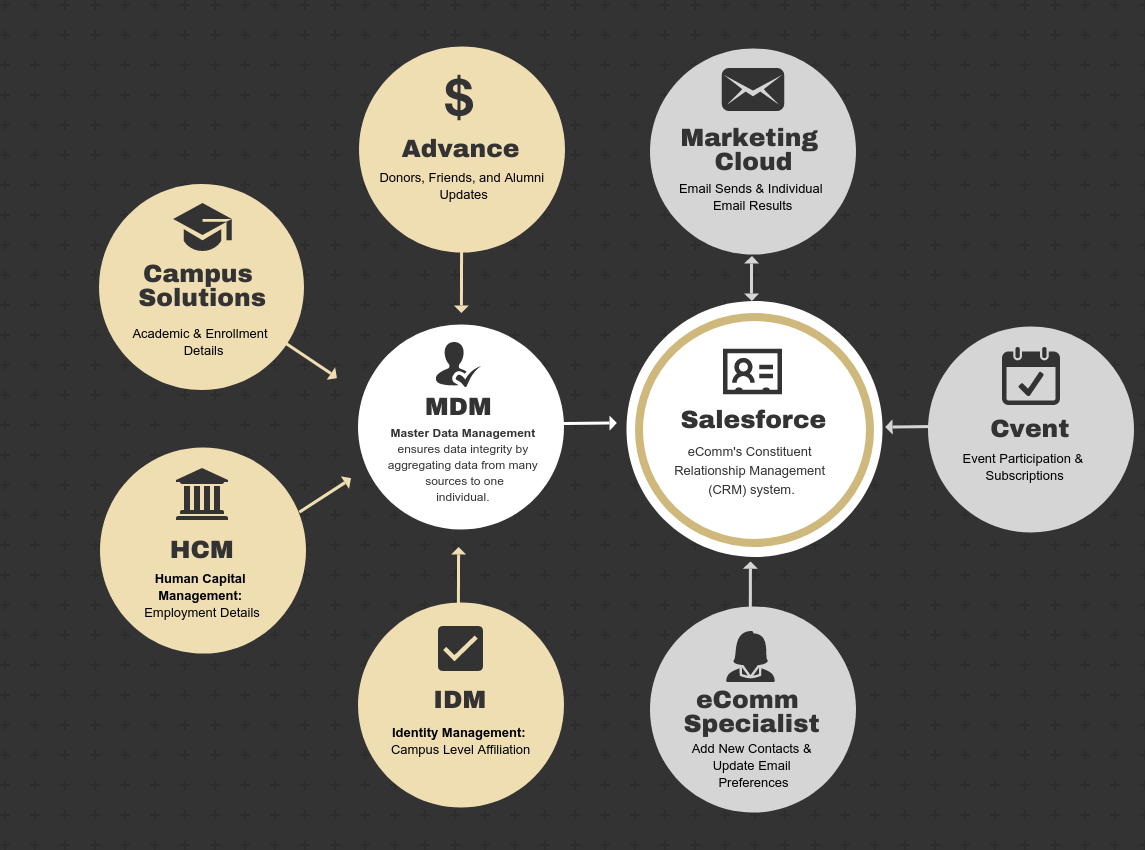 eComm's constituents are comprised of data from multiple systems (listed below).
Master Data Management (MDM)
aggregates these details on one record then passes it to Salesforce for use.
Advance | Donors, Friends & Alumni Updates
Campus Solutions | Academic & Enrollment Details
Human Capital Management (HCM) | CU Employment Details
Identity Management (IDM) | Campus-level Affiliations
eComm Specialist | Contacts that do not exist in one of the above data systems can be created directly in Salesforce by an eComm specialist
Once a contact is created in Salesforce, there's a few ways the contacts's information gets updated and enhanced:
Marketing Cloud | Enhances a Contact by populating Email Sends & Individual Email Results (IERs)

Marketing Cloud and Salesforce have a bi-directional integration meaning a Marketing Cloud email can distribute to a targetted audience created in Salesforce and data from that email can be sent back to Salesforce.

Cvent | Enhances a Contact by adding event participation (and creates new Contacts when necessary)
eComm Specialists | Update a consituent's Email Preferences

Constituent's can adjust their own Email Preferences by receiving an email and selecting 'Manage My Preferences' in the footer

Advance, Campus Solutions & HCM | Updates constituent's First Name, Last Name, or Email (depending on which source system the Contact originated from)
Data Dictionary & Entity Relationship Diagram (ERD)
The data dictionary [2] provides full descriptions and values of fields that exist in Salesforce while the Entity Relationship Diagram (ERD) [3] indicates how the data is related to one another.