The first-ever Tech Connect conference was held July 12-13 at the Arvada Center for the Arts as a way for University of Colorado campus IT offices to connect with peers across the CU system, collaborate on current projects, and discuss challenges and recent innovations in technology. In essence, it provided an opportunity to meet 'the faces behind the emails.'
"Collaboration would be a wonderful opportunity for our campuses. Why not leverage each other's knowledge and experiences? We are all CU!" said Jayme Chapin, communications professional for CU Boulder's OIT Administration.
Attendees presented their work and ideas through lightning talks and poster sessions, highlighting their work and ideas to improve IT processes on the campuses. Topics ranged from the need for greater tech accessibility to implementing the Salesforce platform. Colleagues could also discuss pertinent CU-related issues in round-table discussions, moderated by a CU expert in that area.
Participants included UIS's Al Wirtes and Kirk Walker, who both presented their own lightning talk. Wirtes focused on leveraging canonical schemas, and Walker discussed containerizing CU services. Steve Taylor and Christie Ruemenapp also participated on panel discussions.
CIOs from CU Boulder, CU Colorado Springs, Denver/Anschutz Medical Campus, UIS and the Office of Advancement participated in a panel discussion. Led by questions provided by attendees, CIOs discussed challenges, successes and processes in the tech world and at CU. A love of higher education and collaboration was a consistent theme throughout.
"It's a huge privilege to work with [other CU campuses] because we all have a different flavor … we have different needs and populations," said Scott Munson, UIS Chief Information Officer, during the panel.
Intermixed between informational sessions and discussions were fun networking opportunities that allowed participants to get to know professionals on a personal level. Games played for prizes, including a scavenger hunt, were held along with ice cream from the Sweet Cow Ice Cream Truck, a happy hour to meet and mingle and a wacky photo booth.
Brad Baker, Rana Silver, Kerry Havens and Dave Goldhammer worked alongside other campus affiliates to successfully launch the event.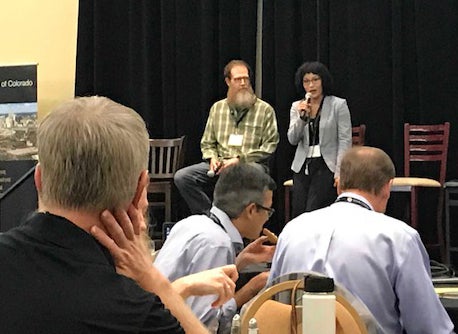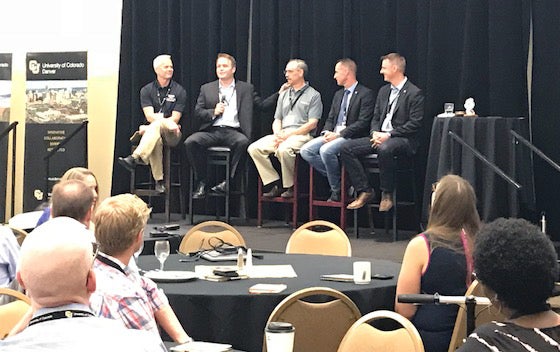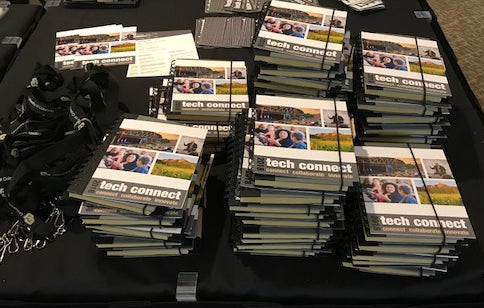 Display Title:
Campus OIT, UIS strive for increased collaboration at inaugural Tech Connect
Send email when Published: