The evening of Aug. 8, a new Work Study Indicator page will be added to HCM to allow users to indicate earlier in the process that student employees will be using work study.
What's changing?
Users will no longer be able to update the "Active Work Study Job" check box on the CU Work Study Job page.
At the time of hire, HCM users will have a new way of indicating that they want an employee's position designated as Work Study, even if the student employee does not yet have a work study limit loaded into HCM. (Adding the student employee to this page is no guarantee they will have a work-study award). This update also ensures that work study is being applied to the correct Employee ID and Job Record when employees have multiple jobs.
The new page can be accessed with the following navigational path: Navigator > CU Student Info & Processes > CU Work Study Indicator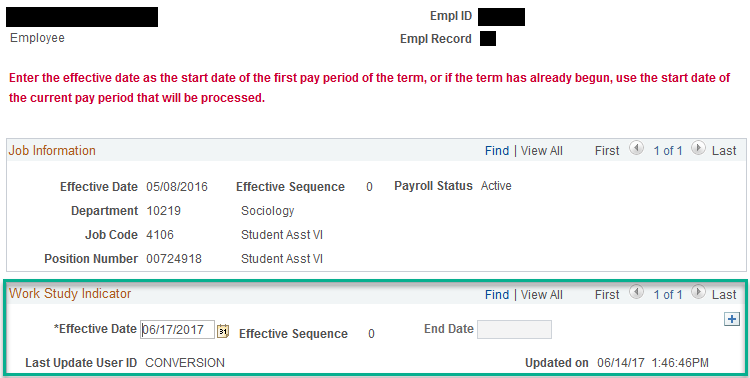 [3]
Training
A quick reference guide can be found here [4].
CU Boulder sessions
Campus HCM users at CU Boulder can attend either of the following sessions to learn about the new Work Study Indicator process:
| | | |
| --- | --- | --- |
| Date: | Thursday, Aug. 10 | Monday, Aug. 14 |
| Time: | 10:30 - 11:30 a.m. | 2:00 - 3:00 p.m. |
| Location: | UCM 386 | UMC 386 |
Display Title:
New Work Study Indicator Page added to HCM on Aug. 8
Send email when Published: