Vice President and Academic Affairs Officer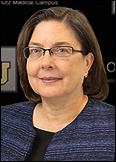 CONTACT INFORMATION
1800 Grant St., Suite 800
Denver, CO 80203
Phone: 303-860-5600
FAX: 303-860-5640
As vice president and academic affairs officer, Kathleen Bollard is the president's liaison between system administration and the tenured, tenure-track and nontenure track continuing instructors who teach, conduct research, and engage in community service on all four University of Colorado campuses.
She is an adviser to CU President Bruce D. Benson, working closely with his executive staff, the Colorado Department of Higher Education, the Board of Regents' academic affairs committee, and with chancellors, provosts, deans, and other leaders across the CU system. She also works with the Faculty Council -- which named her Administrator of the Year in 2009 -- and other governance groups.
Bollard formerly was an associate professor of Spanish on the University of Colorado Denver campus, where she chaired the Department of Modern Languages, served as associate dean of the College of Liberal Arts and Sciences, and in 2001 won the campuswide teaching award.
Originally from California, she has lived in Spain, Mexico and Greece, working in five languages in her research on early modern European literature. She holds a bachelor's in English from Santa Clara University, a master's and doctorate in comparative literature from the University of California-Berkeley, and an MBA from the University of Colorado.
Offices reporting to the vice president: