Next Steps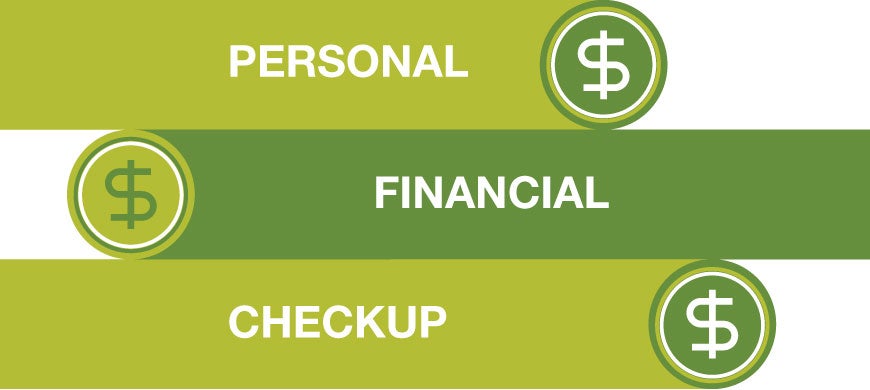 Now that you have completed your Personal Financial Checkup, it's time to make the most out of your hard work and newfound knowledge!
Set a resolution to work on at least one "next step" per week. With this approach, you'll be well on your way to financial fitness in fewer than two months. Now THAT's progress! And if you want to start working on all of the steps immediately, go for it!
Review your paycheck withholdings and tax liabilities.
Review your paycheck withholdings to determine the best strategy for handling tax liabilities. As you do so, be sure to consider whether you want to try to estimate your tax liability as close as possible and pay that amount during the year, or whether you'd like to err on the side of overpayment (to get a refund) or underpayment (to keep more money from each paycheck but possibly have to write a check in April).
Everyone who works for an employer should review their W-4 once a year. For assistance in determining your withholding strategy, check out the IRS' Withholding Calculator. In addition, take a few minutes to complete the IRS' questionnaire on filing status so that you can determine the filing status that best suits your situation. By doing so, you can ensure that you are maximizing your eligibility for certain credits and tax benefits. Please note: This information is for general reference purposes only. Only a qualified tax professional can give you tax advice on your situation.
Safeguard your financial information.
Take steps to safeguard sensitive financial documents and account information. Staying organized and maintaining the security of sensitive financial information minimizes the threat of identity theft. For a complete guide to establishing and maintaining a personal records system, check out our Healthy Habits Web page. There, you'll also find a section on using secure passwords.
Practice smart debt management.
At one time or another, debt is a part of just about everyone's life. People who practice smart debt management regularly review their current debt obligations and have a plan for paying it off – whether it is a 18 month plan to pay off a credit card balance or a 10 year plan to pay off student loans. They also periodically pause to consider the new debt obligations that might be coming on the horizon (e.g. need a new car in 2 years, planning to use a credit card on vacation).Using the Credit & Loan Inventory that you completed earlier in the Financial Check-up, outline a strategy for paying off or paying down outstanding debts. Consider the interest rate, principal balance and length of loan(s) as you develop your plan. Also, be sure to be specific and realistic with your goals! Some people like to start with the smallest balances while others like to start with debt that has the highest interest rates.
Take this time to look ahead to the next few months and next few years and reflect upon new debt that you might be taking on.
Regularly review your insurance coverage and beneficiaries.
Make a note on your calendar to conduct an audit of your insurance coverage and beneficiaries once each year. You might schedule it near your birthday as an easy way to remember. You might take an afternoon to review all of your policies at home, or you might schedule a coverage review appointment with your insurance agent (either in-person or via phone). In addition to scheduling regular checkups, be sure to review and update your coverage and beneficiaries as dictated by major life events such as a marriage, divorce or the birth of a child.
Don't forget to update the beneficiaries in your will and on retirement accounts as well!
Examine your spending habits more deeply.
Now that you've looked at the details of your spending habits, take some to enhance your awareness of the underlying factors that drive your spending habits. Take the Life Values quiz and make sense of the results here.
Regularly review bills for savings opportunities.
Find ways to save by regularly reviewing your bills. Cell phone pricing and services change frequently so be sure to review those options at least each year. You might find that you can eliminate cable and instead stream your favorite shows online for a lower cost. There are an increasing number of gadgets and gizmos that help monitor home energy consumption. Review all of our recurring subscription charges and make sure you still utilize all of those services. The point is, just because you've paid the same bill forever, doesn't necessarily mean you have to continue to do so going forward.
Consider increasing your emergency savings.
Developing an emergency savings fund is an important component of building a solid financial foundation. Having money set aside for emergencies will allow you to navigate unexpected situations such as job loss, vehicle repairs, pet health care, or a broken water heater with greater peace of mind and minimal impact on other areas (e.g. using credit cards or depleting retirement accounts). Ideally, you will set aside 3 to 6 months of your income. For many households, it can take several years to build up this amount of savings. Consider increasing your savings rate in an effort to reach this goal. If you don't have one already, also consider opening a savings account dedicated solely to emergency savings.
---
Haven't completed the Personal Financial Checkup yet?
---
Disclaimer: No communication is intended to be, or shall be construed as, the rendering of any legal or professional advice whatsoever. Any such advice or direction is disclaimed. Further, any information contained in this communication (including any attachments) is not intended or written to be used, and cannot be used, for purposes of (i) avoiding penalties under the Internal Revenue Code, or (ii) promoting, marketing or recommending to another party any transaction or tax-related matter addressed herein.