Healthy Habits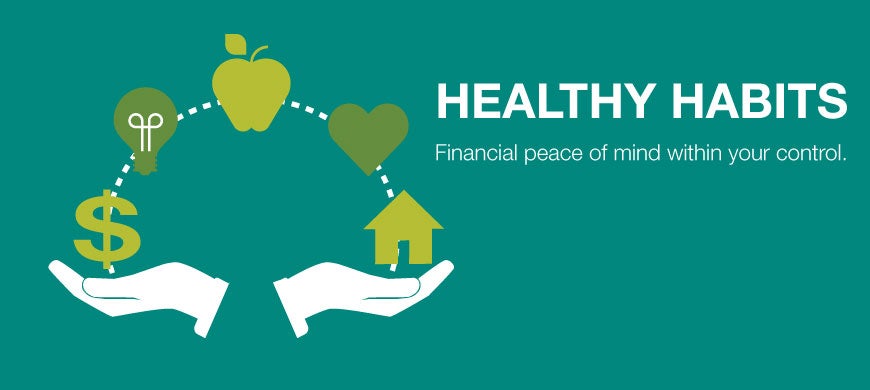 Maintaining financial well-being is a lot like maintaining your physical health: it rests on taking small, deliberate actions over time.
The first step is to resolve to take action. If you aren't ready to tackle all of these habits at the same time, that's OK! Start small. Commit to working on one to two of the habits listed below, gain some momentum and then work to gradually incorporate the others into your routine.
Remember: It takes time to develop new money behaviors, but little by little, you can do it!
Track Your Spending and Standing.
People with positive financial habits regularly track their spending. This helps them stay within their budgets, keeping them on track to meet their financial goals. They also know where they stand with creditors, exactly what kind of insurance coverage they have, and how much they've saved for emergencies and long-term goals.
If you already track your spending and standing, keep up the good work! If not, now is a great time to get started. The Personal Financial Checkup section of this website includes downloadable worksheets and a step-by-step guide that will walk you through taking stock of your spending, credit cards and loans, insurance policies and more.
Everyone tracks their spending differently—the important thing is to find a method that works for you. You can keep it simple: Write down transactions using a pen and paper, use online tools provided by your bank or credit card company or purchase software resources designed specifically for household personal finance. Choose the tool that makes it easy to regularly reflect on your spending and saving behavior, as well as changes you can make to improve your financial standing.
Establish and Maintain a Personal Records System.
It's important to develop a plan for managing important papers, such as financial records, insurance policies and legal documents. You should store physical documents in a safe, accessible way; organize and secure electronic files; and know where to find customer service contact information for all of your accounts. It's also a good habit to review documents annually and when a major life event occurs.
Downloadable resources
Use this checklist when compiling your documents for the first time or conducting your yearly review.
As you review your documents, sort them into groups: Active, Storage, Destroy and Safe Deposit Box. This reference guide will help you with the sorting process and tell you what to put in an emergency grab-and-go kit.
This handy cheat sheet tells you what to keep and for how long.
Finally, here are some tips for creating and maintaining a home filing system.
Seek Unbiased and Accurate Information for Big Financial Decisions.
Because big financial decisions have significant implications for personal and financial well-being, healthy financial households seek unbiased and accurate information to point them in the right direction.
To find this information, conduct your own research online or read literature relevant to your situation. It's important to vet the sources of information to make sure you're receiving high-quality, unbiased information.
Talking with a financial professional is another way to receive information and guidance. Financial planners can help you with a specific financial goal or provide a "big picture" view of how present decisions affect your overall financial well-being and long-term goals. If you decide to talk with a financial planner, be sure to research the planner's credentials and pay structure: these factors influence the type of information that the financial professional provides and the payment that (s)he requests. Read more about how to choose a financial planner, and review "10 Questions You Should Ask" when choosing a financial professional.
CU employees are encouraged to schedule one-on-one meetings with financial consultants from TIAA, the university's retirement plan service provider. Through this university benefit, all CU employees, including PERA participants, can get personalized financial guidance on a wide variety of financial topics—not just retirement. The consultations are education-oriented, so you'll never be sold a product or service. Visit the Personal Financial Consultations page for details and to schedule an appointment. You may also download our Financial Consultation Preparation Guide to learn what to bring to your appointment.
Shred Personal Documents and Use Secure Passwords.
Minimize the risks of identity theft and fraudulent activity in your financial accounts by shredding personal documents and using secure passwords. There are many ways to establish a secure password.
One approach is to start with a phrase (not a word) and include numbers, letters (upper/lower case) and special characters. Here's an example: "My brother loves to eat blueberry pie." Take the first letter of each word to get: mbltebp. Then capitalize some letters, and add in some symbols and numbers: mB!t3bp
In addition to using secure passwords, be certain to secure them. Store your passwords in a place that won't be compromised and change them on a regular basis. Also, be sure to include variety in the passwords that you create. Though it's easy to remember a few variations of the same password, creating different passwords will enhance the security of your information.
Set and Work Toward a Financial Goal.
Goal setting is essential for financial well-being, and whether your financial goals are small, large, short-term or long-term, it is important to write them down. In addition, be sure your goals are SMART!
What are SMART goals?
Specific: I will pay off my credit card in two months by paying $300 dollars this month and $450 dollars next month.
Measurable: I will pay an additional $50 with each payment on my student loan bill for the next 6 months.
Achievable: I will save $10 per week. (I will forgo two coffees each week at my favorite coffee shop and instead transfer $10 into my savings account.)
Realistic: I will work on paying off my auto loan ahead of schedule by including an additional $50 on my monthly payment.
Time-Bound and Trackable: We will save $2,000 for a vacation by saving $200 a month for the next 10 months.
Create SMART financial goals for each of the following time frames:
Short-Term Goals (achievable in fewer than 3 months): Examples might be conducting a Personal Financial Checkup or conducting a thorough review of all your household's important papers (as described in the second Healthy Habit).
Medium-Term Goals (achievable from 3 months to 3 years): An example is saving $100 a month until your emergency savings balance reaches $3,000.
Long-Term Goals (goals that require 3 or more years to achieve): Examples include paying off your car loan or saving for a down payment on a house.
If you need a boost with developing your goals, be sure to check out this worksheet.
Create and Maintain an Emergency Plan.
Emergencies and disasters can arise without warning and present a variety of financial challenges. You can help mitigate detrimental financial impacts by creating and maintaining an emergency plan. As you develop your plan, check out www.ready.gov and "Disasters and Financial Planning: A Guide for Preparedness"—a step-by-step guide offered as a public service of the American Institute of Certified Public Accountants (AICPA), AICPA Foundation, the American Red Cross and the National Endowment for Financial Education (NEFE).
Do a Financial Checkup Once a Year.
Just like an annual doctor's appointment, it's important to do a financial checkup at least once a year.
As you conduct your checkup, consider taking the following actions:
Review and file personal records (shred as necessary).
Update your emergency plan.
Review, evaluate and update your financial goals.
Review your spending behavior and financial standing.
Change your passwords. (Ideally, you will change your passwords more frequently than 1 time per year. However, 1 time per year is better than none!)
Consider meeting with a financial professional if you experience a major "life event" (change jobs, have a baby) that year.
Get a free copy of your credit report from each reporting agency. You can access free reports at www.annualcreditreport.com. In order to maximize your access to free reports, consider requesting one report (each from a different reporting agency) every 3-4 months.
Check the interest rates on all of your loans and credit cards. If lower rates are available, contact creditors to inquire about lowering your rate(s).
Review coverage on your insurance policies. Update coverage and/or contact your insurance agency as needed.
Visit your safe deposit box.
Review beneficiaries on all of your insurance policies and financial accounts. Update information as applicable.
Balance Present and Future Financial Needs.
You can learn to spend and save appropriately by learning to balance present and future needs. Some people find it tempting to live and spend for the present moment. Others end up too far on the other end of the spectrum, trying to forgo as many present comforts as possible in the name of a secure future. Most people are happiest with a balanced approach, or "keeping their feet in the present but an eye on the future," so to speak. Aiming for balance can help you to establish a strong financial foundation that supports your financial health over the near and long term. An easy, effective way to develop this mindset is to pause with each purchase or savings deposit (no matter the amount), and ask how it affects your present situation and future needs.
Prepare and Maintain a Plan for the 'What if.'
Another helpful habit is to keep a current plan for who will make your medical and financial decisions if you become incapacitated and how your assets will be treated when you pass away. Preparing now is an important step in securing financial peace of mind for you and your loved ones. This handy checklist walks you through the five basic documents that you need for a complete plan. It's a good idea to review each document annually to make sure that the information is up to date.
Sleep on It.
Finally, a key practice for financial well-being is to "sleep on it."" Impulsive purchases (even small ones) can undermine your financial goals and standing. Similarly, making a major financial decision without gathering sufficient information, or considering options and implications, can also weaken your financial well-being. Nourish your financial health by allowing time to process and reflect on the decision at hand.
---
Disclaimer: No communication is intended to be, or shall be construed as, the rendering of any legal or professional advice whatsoever. Any such advice or direction is disclaimed. Further, any information contained in this communication (including any attachments) is not intended or written to be used, and cannot be used, for purposes of (i) avoiding penalties under the Internal Revenue Code, or (ii) promoting, marketing or recommending to another party any transaction or tax-related matter addressed herein.