Many people have heard of Constituent Relationship Management (CRM) and understand its basic concepts, but how does the solution specifically benefit higher education? Constituent relationship management systems in higher education use technology to streamline and manage an institution's relationship with and communication to prospective students, current students, faculty, staff, alumni, donors, and others who interact with the institution.
The rich data CRM captures helps institutions to drive more efficient and effective service by providing real-time numbers, data, graphs and trends at the macro level. Additionally, a great CRM allows a university to use vast data to personalize and customize communications and interactions; this helps to ensure that constituents are being met where they are in their journey with the university and are receiving timely information to support their needs and success. CRM also allows universities to automate workflows, which increases data quality and operational efficiency.

The full CRM lifecycle is shown below. While our current scope does not cover the entirety of the lifecycle, we are setting a course to grow our overall capability holistically across CU.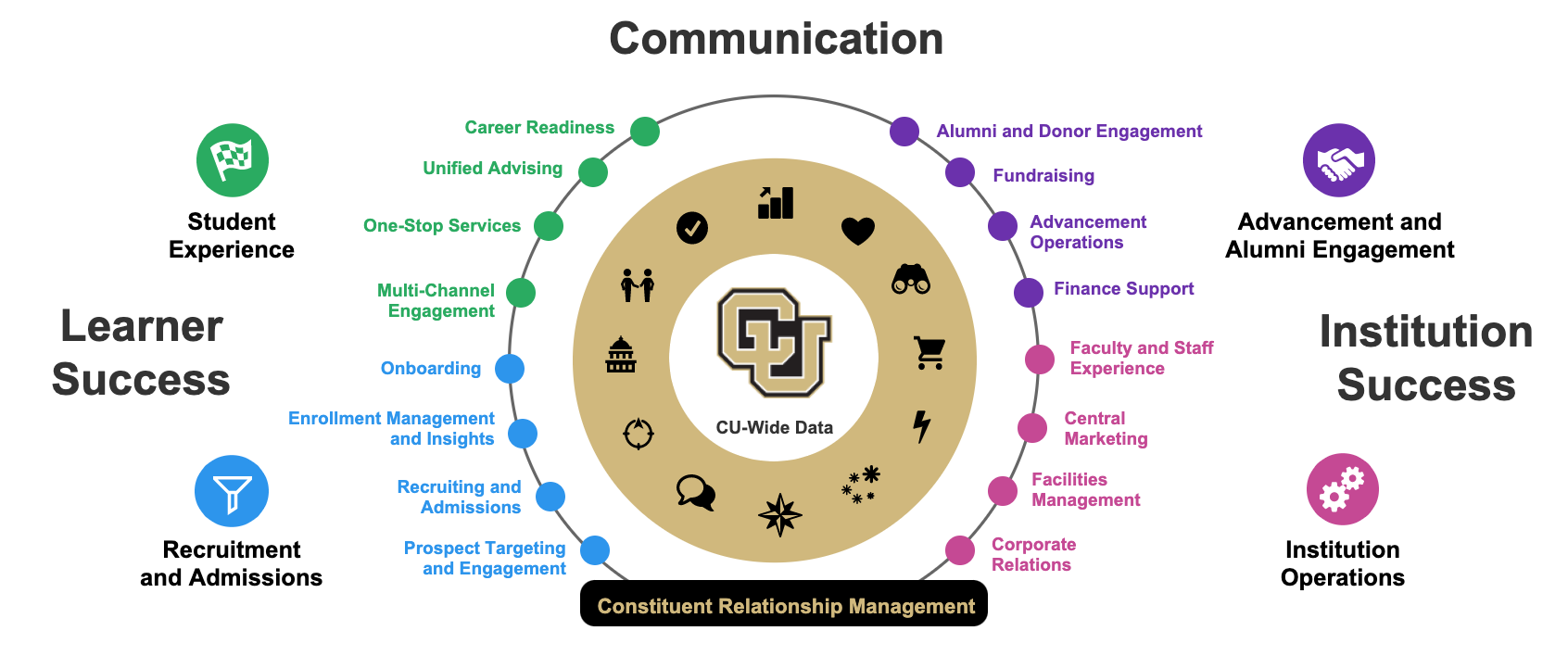 The key components of the CRM lifecycle in higher education are Learner Success (recruitment, admissions, and student experience) and Institution Success (advancement, alumni engagement, and institution operations).
LEARNER SUCCESS
Recruitment and Admissions
- Prospect targeting and engagement
- Recruiting and admissions
- Enrollment management insights
- Onboarding
Student Experience
- Multi-channel engagement
- One-stop services
- Unified advising
- Career readiness
INSTITUTION SUCCESS
Advancement and Alumni Engagement
- Alumni and donor engagement
- Fundraising
- Advancement operations
- Finance support
Institution Operations
- Faculty and staff experience
- Central marketing
- Facilities management
- Corporate relations