Accessing CU-Data
Log in to your campus portal. On the CU Resources page, select Reporting and Compliance, CU-Data.
To access the old Cognos/CU Reporting System (available through FY 2017 year-end), select Reporting and Compliance, Public Folders (or My Folders).
---
New homepage, new navigation
Search lets you find reports through keywords (e.g., trial or detail).
m-Fin LAUNCH suggests reports to run to accomplish specific tasks, depending on your Speedtype, Org, or Project characteristics.
My content is a folder in which you can save content - such as saved report views, shortcuts, and Query Studio queries - for your own use.
Navigate the Team content folder to get to all reports. Reports are listed in alphabetical order.
Recent lets you quickly access recently run reports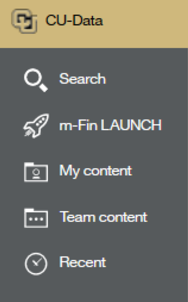 ---
Running reports
Your m-Fin reports and report prompts look the same.
Your action icons (Save, Run As, Previous Report) are now on the left side of your screen.
The Re-Run option is now available under the Run As icon dropdown.
Report drills generally open in the same tab.
Use the Previous Report icon to return to your original report.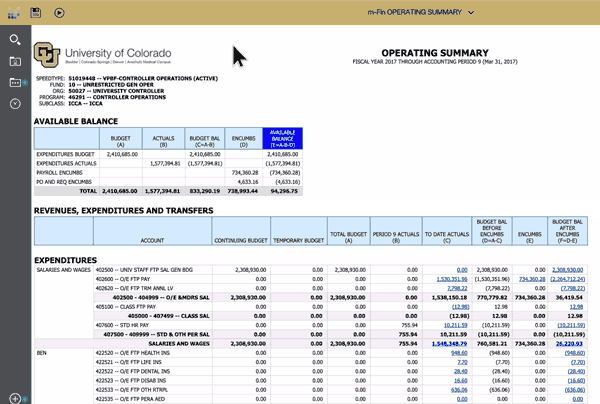 ---
Report views and queries
Do you have Report Views or Queries saved in My Folders in the old Cognos/CU Reporting System? You'll want to check out our How-To video: Copying 'My Folders' Content to CU-Data.