VPN is as easy as right-click and go
System Administration employees who haven't had a new laptop in a while might find it cumbersome to access VPN using the Juniper client. Accessing using Juniper requires starting the VPN, waiting for Java to load, probably having to update the version of Java and then finally opening the desktop client.
UIS now offers VPN using Pulse Secure, a quick and easy way to connect in just two clicks! No more clunky application – just start VPN and forget about it.
So how do you get the new VPN? Your first stop is the UIS Service Desk How To… Guides page at http://www.cu.edu/uis/uis-service-desk/how-guides. Instructions to download and configure the Pulse Secure client for both Windows and Mac are there at your fingertips. Once configured, start the client and Pulse Secure runs in the background until you shut down or log out. It's fast, easy and convenient for remote workers.
For Macs, click the Pulse Secure icon in the menu bar and Open Pulse Secure to log in.

For Windows, open Pulse Secure from the Task Bar, right-click and Connect under System VPN.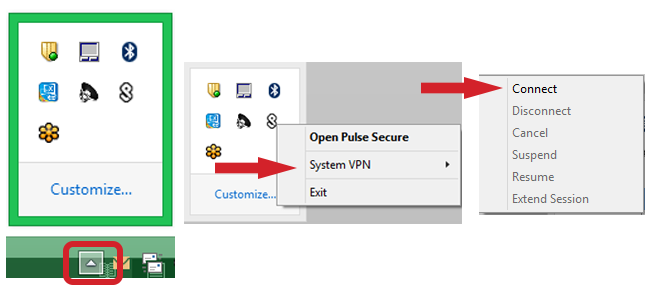 That's all there is to it!
Need help with the Pulse Secure client or any other technology service needs? Contact the UIS Service Desk.
Email: help@cu.edu
Phone: 303-860-4357(HELP)
UIS Service Desk Self-Service under Help/Support in the employee portal