Skillsoft, My Leave unavailable March 26 during production maintenance
Maintenance will be performed on production services from 6 a.m. - 6 p.m. Sunday, March 26. HCM, CU Reporting, CU Careers - Recruiting and FIN will remain available to users through an outage page while this maintenance takes place. However, some applications will be unavailable, so please plan your tasks accordingly.
To access the outage page:
Users should log into their employee portal. Upon logging in, they will be redirected to a page that will provide a direct link to HCM, CU Reporting, CU Careers - Recruiting and FIN. This page will be branded specifically for each campus portal, but will look similar to this: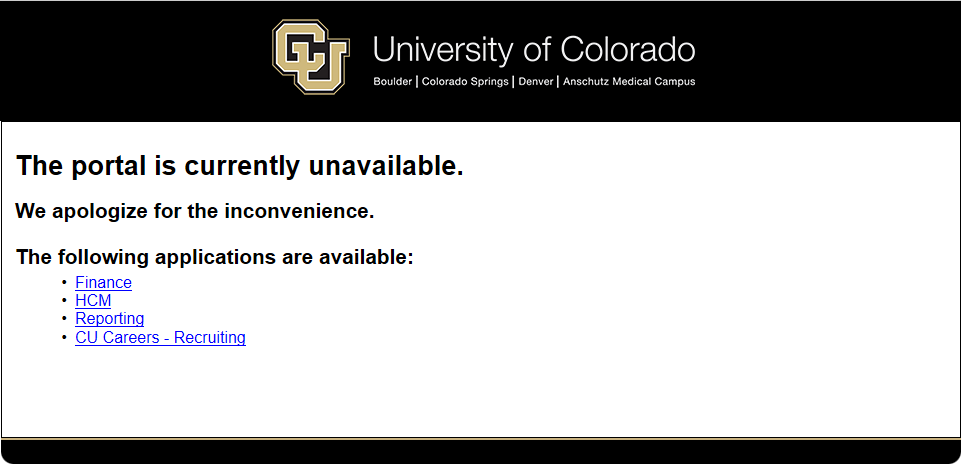 What will be unavailable?
The following services will be unavailable during this time:
Campus Solutions
Campus Solutions Mobile Application
Concur Travel & Expense
CRM
CU Marketplace
DATC
Enterprise Portal
ISSS
My Leave
Online Admissions Offering (OAO)
OnBase (accessed via the portal and Campus Solutions)
Parchment
Singularity
Skillsoft
What will be available?
The following services will be available during this time:
1800 Grant File and Print Services
1800 Grant VDIs
1800 Grant Phones
Cherwell
CIW
CU IRM
cu.edu Email
eRA
ImageNow
Integration Gateway
Law Toolbox
LegalFiles
OnBase (direct access and Unity Client)
Phire
R25 Interface Server Application
Secure Enterprise Search (SES)
Secure File Transfer Protocol
SharePoint
Skype for Business
Terminal Server
TeamMate
TTO Portal
Wired and Wireless network for 1800 Grant
VPN