Seeing an Earnings Not Paid (ENP) earning code on 9-pay-9 contacts?
Seeing the earning code Earnings Not Paid (ENP) for 9-pay-9 professors? Traditionally, this was only seen when professors were on a 9-pay-12 contract. Choosing a payment plan that extended to the following August meant a percentage of earnings from September through May was put aside and paid out later in the summer. In other words, the salary had been earned but not paid (hence, Earnings Not Paid).
System updates changed the way contracts are entered
As part of Elevate Wave 0 updates, HCM was configured so different dates could be entered on the contract parameters page. A contract begin date reflects the actual start date on the employee's job data (August for all campuses) and a payment begin date reflects the Sept. 1 start of the contract paying out.
This resulted in August job dates falling into the timeframe where money is earned, but has not yet been paid, creating ENP amounts for all professors. For those who chose a 9-pay-9 schedule, the ENP represents the days in August that will pay out in May. The ENP is solely an accounting accrual and has no impact on payment amounts to the faculty member. Each payment will still be 1/9th of the total contract amount.
Below is an example of a 9-pay-9 ENP schedule: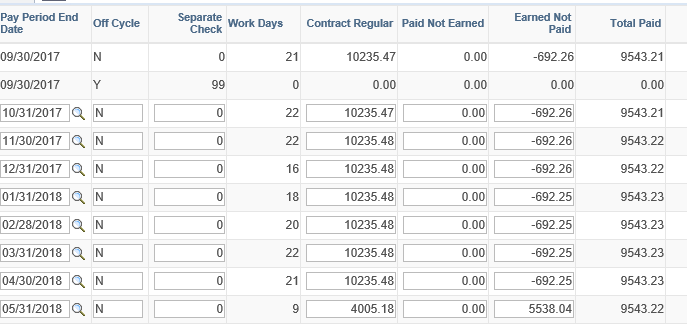 Note:
The Total Paid column reflects nine equal payments.
The May payment is a combination of a prorated CRG amount (reflecting a contract end date of mid-May) and the ENP amount collected from September. This creates the last equal payment.
Guides
Need help with contacts? Resources and additional information can be found on the HCM Community website's Contract Pay page.