New hire status added in CU Careers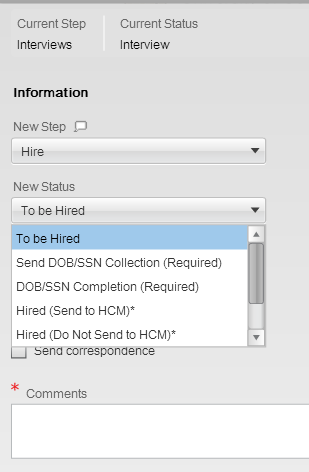 To help you avoid unnecessary data entry, we've added a new hire status in CU Careers.
Many department users requested a way to hire candidates without sending personal data to HCM. This is useful when you want to hire an internal candidate who applied through CU Careers and whose personal data already exists in the system.
To skip sending this data to HCM, simply select the Hired (Do Not Send to HCM)* option during the hire step. This closes the requisition and marks it as filled. Then, use the Transfer transaction page to transfer the existing employee to their new department.
If you accidentally select this option and intend to send data to HCM, Employee Services can help you reopen the requisition and revert the candidate back to the correct status. You can then hire him/her again using the Hired (Send to HCM)* option.
We've revised the Hiring Employees and Creating Candidate Folders step-by-step guides to include this new functionality. Make sure to consult them as you hire away!