New CU Health Plan – Prevent posters coming to your office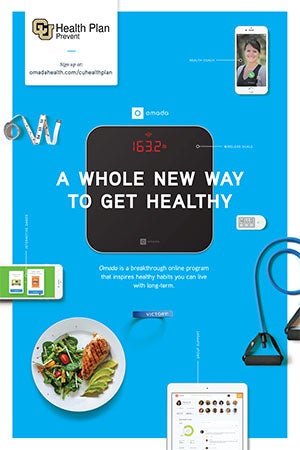 CU Health Plan – Prevent recently introduced a new component, administered by Omada, to help participants make the lifestyle changes needed to say goodbye to unhealthy habits by providing guidance, help and support.
You can now let your department know about this new benefit with new posters for your office. Posters will be delivered during the first two weeks of October. Please hang them in your office or breakroom.
The new Omada component is all about helping and supporting participants in making better lifestyle choices, saying goodbye to unhealthy habits in 16 weeks. Through personal coaching, weekly lessons, support groups and interactive games, participants can kick those bad habits. Participants will even receive a free wireless scale and pedometer to track progress.
Interested in signing up? Visit omadahealth.com/cuhealthplan and take a one-minute test to see if you qualify for the program. This test will determine risk level for obesity-related diseases, such as prediabetes or heart disease.