More improvements rolled out for CU Time and My Leave
We've made additional fixes to CU Time and My Leave.
1. Speedtype overrides now function as expected. This mostly affects vacation termination payouts.
2. We deleted the minus button so you may no longer delete entries from CU Time.

3. Empl Record now defaults to 99. This ensures you actively enter the correct record for manual entries in CU Time, rather than defaulting to an incorrect record.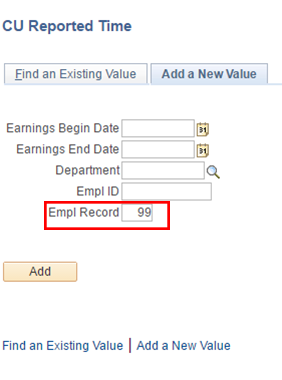 4.CRX, the student contract earnings code, is now available in My Leave and will go in effect for May monthly payroll.
5. Earnings dates should now appear correctly on most payroll entries and in payroll records. We are still investigating a root cause for a small number of earnings dates discrepancies.
6. When an employee has exhausted their sick time in My Leave, additional sick leave requests draw from vacation balances. When these automatically calculate in CU Time, they are now self-approving, meaning you no longer have to approve these requests manually.