Flash Forward: A CU Financial Event posters coming soon
It is never too early or too late to start preparing for retirement. Registration is now open for Flash Forward: a CU Financial Event from Feb. 27 – Mar. 10 on all campuses.
Posters advertising the event will be sent to your office in this week. Take a quick preview: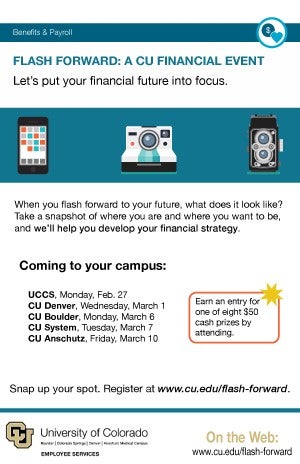 Whether your employees are just beginning their careers or starting the transition to life after retirement, this event provides interactive workshops and presentations providing tools for staying financially healthy in all stages of life. Talk topics include student loan forgiveness, creating an effective savings plan, learning more about CU's retirement account options and more.
Visit our website and register for an upcoming talk!