At Employee Services Expos, free coffee isn't the only perk
This year's Employees Expos promise to perk up your day – and yes, we mean with caffeine.
Employee Services Expos are coming to your campus Oct. 26-30. You'll be on the hunt for perks and benefits exclusive to CU employees. We'll also have experts available to answer questions on anything from CU medical plans to the tuition waiver.
Mark your calendars and join us on your campus: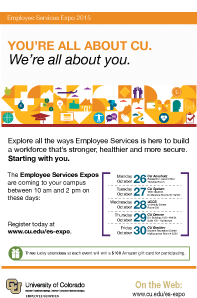 Anscutz Medical Campus: Oct. 26, 10 a.m. – 1 p.m.
CU System: Oct. 27, 10 a.m. – 1 p.m.
UCCS: Oct. 28, 10 a.m. – 1 p.m.
CU Denver: Oct. 29, 10 a.m. – 1 p.m.
CU Boulder: Oct. 30, 10 a.m. – 1 p.m.
To help spread the word, we're sending you 11 x17-inch posters to hang in your office. They should arrive the last week of September or early October. Thank you in advance for helping us promote this educational event!
Why should I go? Why should my coworkers go?
Between the booths and talks, there's a lot to learn!
Representatives from each Employee Services division – Benefits & Payroll, Collaborative HR Services, Financial Wellness, and Careers Advancement & Learning – will be available your questions. Make sure to visit the Elevate booth to get a look at the revamped employee portal and learn about improvements to MyLeave, too.
We're also hosting several short talks. Learn all about CU's simplified retirement plan at a TIAA-CREF presentation, or get quick tips on managing credit from our local credit union partners. Employee Services representatives will talk about using the tuition waiver and finding hidden benefits at CU.
Oh, and before we forget, we'll have TIAA-CREF coffee carts serving made-to-order drinks for attendees who conquer our simple scavenger hunt. We're also giving away three $100 Amazon gift cards at each location and other fun prizes.
Take a break from work, play games with your colleagues and learn a thing or two about CU!
How do I register?
Visit our Employee Services Expo website and click on the "Registration" tab in the left-hand menu. You'll register through an external event website.