MEC Weekly Digest | April 6, 2020
ALERT | Sender Profile Verification
Issue: Sender profile verification was enabled in our account with the March 2020 Marketing Cloud release. Previously, SFMC had told us that sender profile verification would not be enabled in our account and that CU would be part of a SFMC-driven mass-verification pilot (that unfortunately never occurred).
Impact: There are two primary impacts now that sender profile verification has been enabled:

You may see a notification (see screen shot one below) when viewing an existing sender profile that states that the profile verification has expired. Note: we were still able to successfully send using profiles with this error message.
When creating a new sender profile, you will need to complete the verification process in order for the profile to be used for email sends. To verify the profile:

Click the Verify button next to the email address in the sender profile (see screen shot two below).
The person/people associated with that email address will receive a verification message from Marketing Cloud (see screen shot three below).
Instruct the user to click the verification link. This will allow the sender profile to function for email sends.

Solution: We are working directly with SFMC to resolve this issue and to determine if we can complete a mass-verification for all of our domains. We should have more information soon and will keep you informed.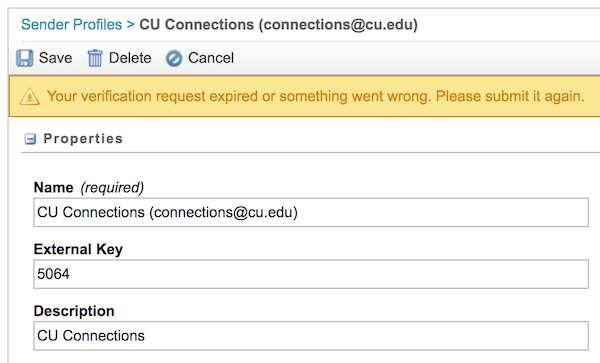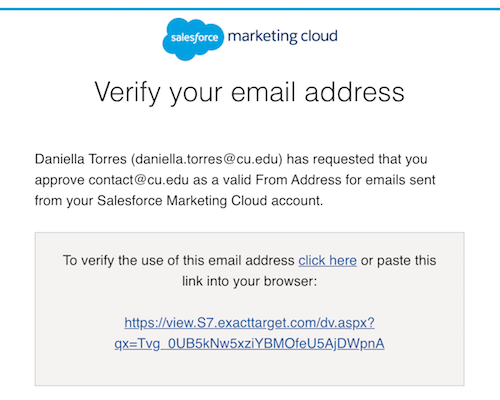 Inactive Email Address Management
Issue: Contacts with active email addresses in one or more of the CU email fields were continuously being inactivated in Marketing Cloud due to bounces to incorrect email addresses in the email field.
Impact: Active faculty, staff, and students were often not receiving communications.
Solution: Jen Mortensen worked with the Advancement Records team to remove over 12,000 bad email addresses from Advance and Salesforce. Once the bad email addresses were removed from Advance, Jen Mortensen and Daniella Torres identified around 5,000 contacts where the change was not picked up by the Advance - Salesforce integration and manually removed the email addresses from those contacts. The final step in this process will be for Nonie Roberts to delete the inactive subscribers from Marketing Cloud. We expect that to occur this week.
Documentation: Jen Mortensen wrote documentation on this process that the System team can use to manage this process going forward.
Ongoing Management: As soon as the subscribers are deleted from Marketing Cloud, Jen Mortensen will start this process again and will continue conducting it on an ongoing basis (in addition to daily subscriber reactivations, which should be greatly reduced in number given the progress above).
Manual Corrections to Missed Data
Issue: We are continuing to see issues where the Advance-Salesforce integration is not picking up changes to email address that occur in Advance to populate them in Salesforce.
Impact: Some constituents aren't receiving emails at the preferred address listed in or recently updated in Advance.
Workaround: Jen Mortensen is working with the Advancement Records team to get a weekly summary of email address changes in Advance. She will then verify that the changes populated in Salesforce and work with Daniella Torres to make additional updates where needed.
Updated New User Training
Issue: With COVID-19, new user training can no longer be held in-person. We offered a live, virtual training option in March due to the last minute change but are now pivoting to a hybrid model.
Update: Users can learn the tools by following along with on-demand videos then attend a virtual session to address questions and complete the required quiz as a group (cameras on).
New Wikis and Documentation
Cvent Offering Free Certification
Good News: Cvent has provided us with a discount code that grants free certification for the options below. If you're interested in obtaining the discount code for free certification, contact Melanie Jones or Jennifer Mortensen.
Ongoing TaskRay Tasks & Data Monitoring