SET Strategy & Kate's V2MOM
SET Strategy & Kate's V2MOM
Strategy is at the core of the System eComm Team. Being strategic in a thoughtful, collaborative way allows us to not only meet our goals but also blaze trails for higher education email marketing and event management.
Given the importance of strategy Kate has created and published a V2MOM for her position. This high level document describes the vision and values the Kate activates in her work, along with the methods, obstacles, and measurement for the position. Information about the V2MOM along with a copy of Kate's V2MOM are below.
About V2MOMs
The V2MOM is a formalized process to achieve alignment through goals and metrics. The title is an acronym for vision, values, methods, obstacles, and measurements. Used to guide decisions and focus work, the V2MOM outlines elements that are critical for success. You can read more about the V2MOM at this Business Insider article or on the Salesforce blog.
Kate's V2MOM
​​This V2MOM is reflective of the mission statement for the University of Colorado and its accompanying principles. It also aligns strategically with the premise of the eComm program, the job description for the Electronic Communications Coordinator position, and the vision statement for the university's CRM. A PDF copy is availible for download at the end of the post.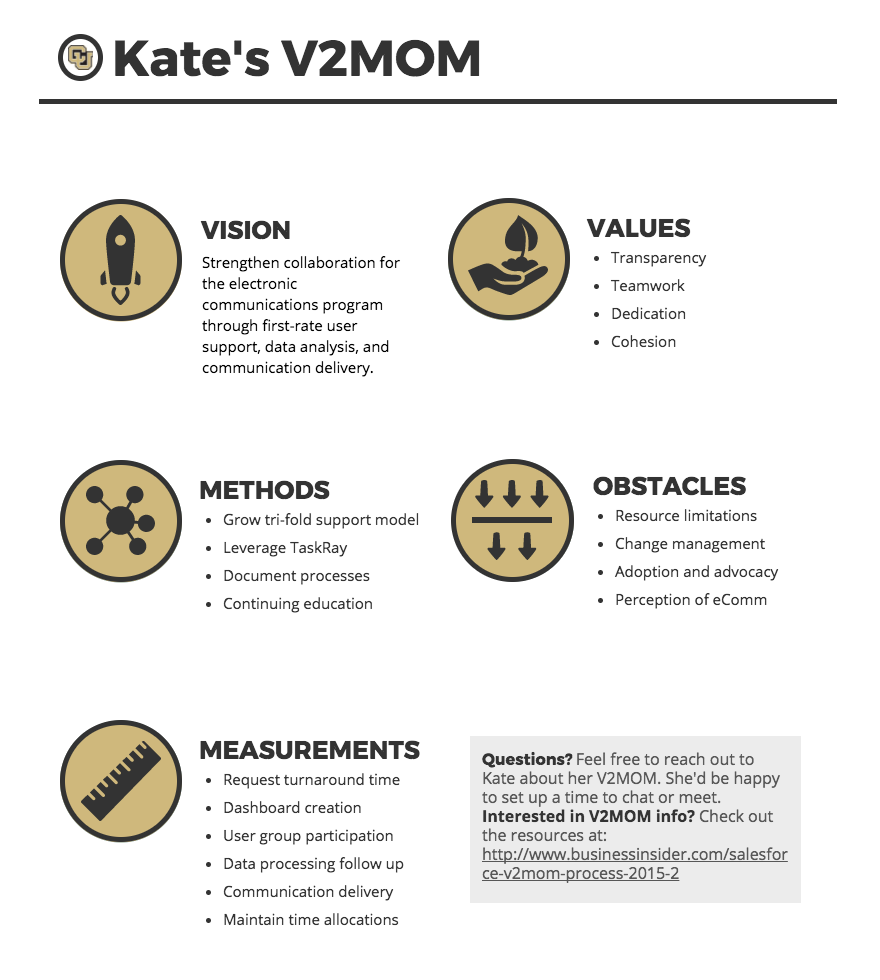 Questions? Reach out to Kate via TaskRay or submit a help ticket.